Jeb Bush's gun launches own presidential campaign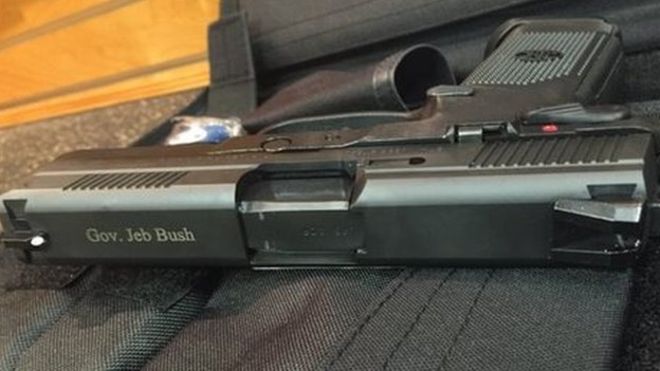 Former Florida Governor Jeb Bush faces a deadly new rival for the Republican nomination, as his monogrammed handgun takes advantage of newly-found Twitter fame to launch its own presidential campaign.
The firearm immediately leap-frogged Mr Bush's dire poll ratings, moving into a dead heat with front-runner Donald Trump in national polls and taking a solid lead over the outspoken property mogul in conservative South Carolina. Republican voters were reportedly drawn to the lethal weapon's hard-line stance on crime, foreign affairs and Second Amendment rights, while evangelicals were attracted to what they see as the gun's traditional Christian message.
"Sure, he don't talk much," Alabama resident Dave Lynch told us. "But I really relate to his values, and we need someone who ain't going to take no nonsense from those IS sonsabitches in Mexico. U S A! U S A! U S A!"
Political analysts have been impressed by the speed with which the firearm has assembled a slick and professional operation, with funding from a number of reclusive right-wing billionaires and an endorsement from the NRA boosting the fledgling campaign. Meanwhile, Mr Bush's own presidential run is increasingly in disarray after a series of set-backs, including an endorsement from George W Bush in which the former president somehow came across as the less dumb brother.
Republican pollsters now see Mr Bush's gun as the only serious "stop Trump" candidate, out-polling Marco Rubio on credibility, scoring better name recognition than John Kasich and seen as less dangerously ideological than Ted Cruz. Many now expect the firearm to emerge victorious from Republican primary season, although rumours that Mr Trump's hair is poised to launch its own presidential bid could yet upset the calculations.